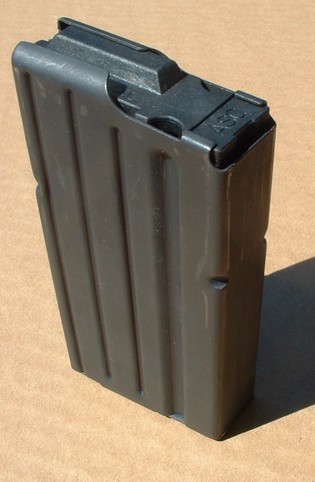 ASC 5/20rd .308nato for AR10/SR25/R25 etc
Practical Performance Products is proud to announce we are the Canadian Distributors for ASC magazines and in conjunction with their R&D department have worked to bring a new line of AR PISTOL mags to Canada!
This also allows us to bring you substantially better price points as witnessed here.
ASC 5/20rd .308nato magazine for the AR-10, SR-25, R-25 and similar firearms.  These are made of blackened stainless steel and utilize anti-tilt followers and stainless springs to give you a premium quality, fully corrosion resistant and reliable magazine to last you a lifetime. Specifically made to order for us, with the four corner crimp on the mag body, done at the ASC factory, to satisfy the requirements for importation into Canada.
Contact us for shipping quotes on 3 or more mags.
NOTE, For use in ORIGINAL Armalite AR-10's form the 1950's. These mags fit the mag well but require modification to the mag catch cut (on the magazine, easily done)
Dealer inquiries are welcome on in stock ASC magazines. Please contact info@practicalperformance.ca for dealer qualifications and pricing.
In stock